Tuesday, April 18, 2006
New Blog URL: http://pixeljamgames.blogspot.com/
Wednesday, April 12, 2006
Gamma Bros is almost finished
Wednesday, April 05, 2006
In the other begining..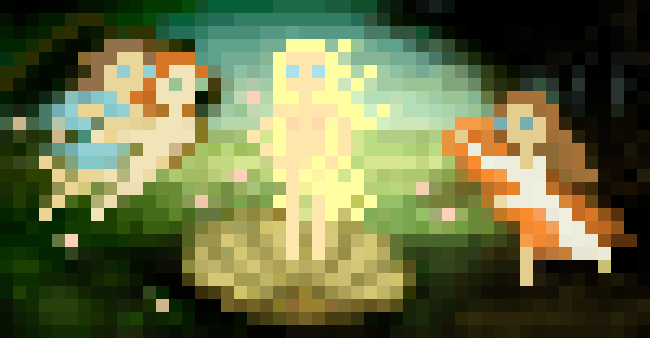 The
Birth of Pixel Venus
by R. Grillotti
Hello and welcome back! First, a quick update on Gamma Bros.. Things are moving along very, very well! Most of the sounds and music are in, and we're getting close to finishing. we've been adding some really nice details, and as new ideas pop up (and they do constantly) we are keeping track of those for our "Deluxe" version of the game that we hope to create/release around December 2006 (which is not to be confused with
Gamma Bros 2
, or the action/adventure/platform Gamma Bros related game we've got in mind for the future).
Mark DeNardo
, 8-bit musician extraordinaire, visited Chicago last week, played an
Omac
show with Miles and our friends Bobby K & Richie D, as well as a solo set that same night. During the set he played the theme song he wrote for Gamma Bros, w/ guitar and vocal accompanyment (which I've got a recording of & will share at a later date). He also layed down some tracks for Gamma Bros while he was at our place, and we've now got almost all that we need now for the game sounds and music. I really love his Gamma Bros song.
So, last week I revealed some of
Miles'
earliest Flash programming experiments. That was some pretty funny stuff, no? I particularly liked the enemy head file. Well, this week I'm going to reveal where my end of things began. I (
Rich
) have been doing pixel art and animation for a long time. It began as a love of abstract pixel art, on a site I started in 1997 or so, "
pixeljam.com
". For example, this is one of the first animations I did for it:
this one was called "Orange". It took me a while, but I eventually made a
new version
of Pixeljam last summer, pixel sunsets and sunrises. I've got plenty of ideas for future series', but for now I've got games to work on.
Around the time I was creating new work for Pixeljam, I was invited to put some artwork in an art/fashion/music/multimedia show here in chicago, called "Seamless", by
M5
. I wanted to do something new and something pixel related, so I began to work on developing the most minimal pixel style women I could, with 2 eyes, arms, legs, charm and beauty. After a couple weeks of experiementing I wound up with characters and a direction I was really happy with. I had my first series of pixel models!
If you're interested in seeing them all, I've got the whole pixel models 01 series up on my site
anything.org
.
My pixel models were eventually projected onto huge exterior windows throughout the show and people responded very well. With their big pixel eyes, they were just plain cute! I planned on going forward and making more of these women, but around this time Miles and I began to work on the Adventure style game I mentioned last week, and I found myself doing some experiments for animating pixel people walking. After some trial and error,
I began to get an idea of how to make it work. I was amazed that I could emulate human movements with such few pixels. At that point, I was hooked and we were both excited by the possibilities for making games with these characters.
So, we went to work on "Game 01" and I began to create all sorts of characters, objects, fruits vegetables, enemies, etc. Miles started to work on the game map and we both worked on ideas for game story, character personalities and game play. We took it pretty far, and have a semi-complete game that's actually beautiful and a whole lot of fun to play, but we had to stop for a variety of reasons. We'd love to complete it, but you know, first things first, and of course we'll need to somehow make a good deal of time/money before we can begin again.
Okay friends, that's all for today. Have a good one.
-Rich
Wednesday, March 29, 2006
In the beginning..
Wednesday, March 22, 2006
Gamma Bros is a good time
Tuesday, March 14, 2006
Ratmaze 0.5 exposed
Wednesday, March 08, 2006
Embed a half sized Ratmaze
Wednesday, March 01, 2006
Interview with a Rat
Tuesday, February 21, 2006
Hello Ratmaze 0.5!
Tuesday, February 14, 2006
Goodbye Ratmaze 1.0